Vallum News
APRIL 2015
HAPPY NATIONAL POETRY MONTH!
VALLUM 12:1 'SURRENDER' LAUNCH
@ BLUE METROPOLIS 2015 !
Vallum is excited to announce the launch of issue 12:1 'Surrender' at the Blue Metropolis Literary Festival in Montreal. The event will feature readings by Stephanie Bolster, Jason Camlot, Jeramy Dodds, Gabe Foreman, Ilona Martonfi, and Jay Winstron Ritchie.

Come join us on Saturday, April 25th!

HOTEL 10
Le Jardin
10 Sherbrooke Street West, Montreal
9-10pm
FREE

For more information, visit the Facebook event HERE!

Or visit the Blue Metropolis website HERE!
______________________________________

FOLLOW VALLUM ON FACEBOOK !


In the spirit of Spring Vallum has created a fresh and new Facebook page for you to follow us on! We will be slowly phasing out our personal profile page so please spring into action and make the fresh start with us. Things to look out for on our new page are Vallum's Poem of the Week for you to enjoy, as well as contest updates, calls for submissions, and other general relevant poetry news.

Follow us on Facebook HERE!
______________________________________
ONLY TWO WEEKS LEFT TO SUBMIT !
ISSUE 12:2 "HUMOUR"

The theme for our next issue is all about humour, but there is nothing funny about missing the deadline! There are only two weeks left to submit your work for consideration. Vallum accepts poetry, reviews, interviews, essays, and letter to the editor.


DEADLINE: May 1, 2015


For submission guidelines, please visit our website HERE!
______________________________________
IT'S GAME ON FOR THE VALLUM AWARD FOR POETRY 2015 !

Vallum's 2015 Poetry Contest is now accepting submissions. Send us your best poems!

This year's Vallum Award for Poetry is judged by Stephanie Bolster and offers a FIRST PRIZE of $750 and a SECOND PRIZE of $250. Poets may submit up to three poems of maximum of 60 lines each.

DEADLINE: July 15th, 2015


Contest rules and guidelines for submissions can be read HERE!
______________________________________
CONGRATULATIONS TO FANNY HOWE !

On March 24 the Man Booker International Prize announced its 2015 shortlist and among the accl authors is Fanny Howe!

Vallum is honoured to have featured Fanny Howe's poetry in issue 3:2 "Japanese Imaginings," as well as to have published her chapbook Tramp in 2005 — the first of Vallum's Chapbook Series. She is a brilliant and inspiring writer of both poetry and fiction. We thank her for her generosity and wish her all the best.

To read excerpts from Tramp, visit our website HERE!

To view the complete list of Man Booker Finalists, visit their website HERE!
________________________________________
BROKEN PENCIL REVIEWS A REMARKABLE GREY HORSE !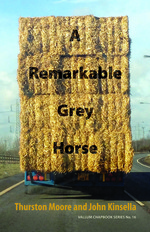 "A Remarkable Grey Horse boasts a modern sheen, but it riffs on Anaïs Nin, Doris Day, Rimbaud, jazz lingo and traditional folk songs. Moore and Kinsella have managed to concoct something that could be described as graceful punk — it can turn from unruly to refined and back again without skipping a beat."

— Scott Bryson from Broken Pencil


Read the full review HERE!

To read excerpts from the chapbook, visit Vallum's website HERE!
_______________________________
VALLUM COMMUNITY BUILDING !


A special thank you to Vallum's Outreach Facilitator, Alisha Mascarenhas!
In 2014, through Vallum's Poetry for our Future! outreach program, Alisha Mascarenhas conducted four workshops at the Native Women's Shelter of Montreal.
Through these workshops, women had the opportunity to share their personal experiences through poems, support each other, connect with oneself, and heal.
Here's what one woman had to say about her experience:
"My name is Tealey Normandin and I am the Outreach Worker at the Native Women's shelter of Montreal. I had the opportunity to sit in on a Writing Workshop that Alisha Mascarenhas facilitated here at the shelter. I was very impressed with her format and structure of the workshop. It not only provided for a great foundation for sharing but it helped the women to ease into the topic with an awareness of themselves. Thus, enabling for open dialogue and participation."
– Tealey Normandin
Thanks so much to Alisha Mascarenhas for her amazing work in our community!
Also, thanks to our donors, facilitators, hosts, interns, and amazing participants! All of this has only been possible through your support – a community who sees the value of literature to inspire, connect and educate.
To read more about our Poetry for Our Future! outreach program, visit our website HERE.
_______________________________
SELECTED DIGITAL CHAPBOOKS NOW AVAILABLE!

A Remarkable Grey Horse
by Thurston Moore & John Kinsella

A Tilt in the Wondering
by Nicole Brossard

Recurring Awakening
by Franz Wright

The Gospel of X
by George Elliott Clarke

Tramp
by Fanny Howe

Buy them online at HERE !

Or visit Vallum's online store HERE !
______________________________________
SPECIAL FUNDRAISING OPPORTUNITY!


Vallum would like to remind you, our reader, of the community work that Vallum Society for Education in Arts & Letters does. Vallum is a federally incorporated charity that promotes literacy and literacy awareness through workshops in schools, women's shelters, native shelters, youth shelters, missions, and other community organisations.

As of this year, Vallum has been approved for the Quebec government Mécénat program, which is a superb fundraising opportunity because each fully tax-deductable donation to Vallum is being matched three-to-one. For every ten dollars you donate to Vallum, thirty dollars will go toward a greater understanding of literature and literacy.

To make a donation of any amount, please visit us at CanadaHelps.org.
______________________________________
Vallum's Mailing Address:

5038 Sherbrooke West
PO BOX 23077 CP Vendome
Montreal, QC H4A 1T0
CANADA
______________________________________